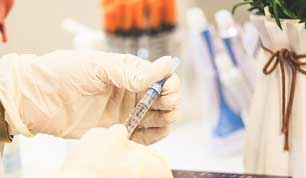 SRMS JOURNAL OF MEDICAL SCIENCE (JMSSRMS) is a multi-disciplinary international, peer-reviewed, open-access journal devoted to various segments of Medical Sciences. It's a quarterly published journal that publishes quality manuscripts (original research, reviews, short communications, mini-reviews, case studies, and conference proceedings) relevant to the various fields of Medical Sciences.
Starting Year
2016

Journal ISSN
2455-9652 (Online), 2456-1673 (Print)

Crossref DOI Prefix

10.21761

Frequency
2 Issues/Year (Quarterly)

Publishing System

MRJ Publishing System
(MRJPS) in compliance with COPE and PKP Project

Copyright License Type

Creative Common Attribution-NonCommercial 4.0 International
(CC BY-NC-SA 4.0)

Email

Primary Contact

+91-9956616864
Journal Abbreviation: SRMS J. Med. Sci.
Why JMSSRMS?
Open and immediate access of all research articles to the global audience.
Worldwide dissemination.
Prompt and unbiased review process.
Indexed with the most important international bibliographic databases.
Regular alerts on E-mail
Article Processing Fee/Open Access Fee
Article Processing Charges/Open Access Fee/Author Fee
Author Fee
SRMS Journal of Medical Sciences is an open-access journal, and then Author submission, as well as article processing and publishing, is free of charge. Authors will not be charged anything for publishing their article in this journal.
Readers can read and download any full-text articles for free of charge.
Articles invited for Volume 3, Issue 2, 2020 (April-June).